6 EFFECTIVE TIPS TO IMPROVE YOUR
PPC CAMPAIGNS
6 Effective Tips to Improve Your PPC Campaigns
Pay-per-click ad campaigns, or PPC campaigns for short, offer enormous benefits to your company. From increasing your profits to expanding your business, PPC can help. However, any old PPC campaign won't give you stellar results. You have to optimize your ad campaign to ensure it's as effective as possible.
At Skoshe, we've mastered the art of pay-per-click advertising and want to help you take full advantage of your PPC campaigns. Whether you're new to PPC marketing or have years of experience under your belt, our PPC tips will help you overcome any low-performing campaigns. Here are six of the most productive ways to maximize your PPC ad campaigns.
Have Clear Goals
Drafting up a PPC campaign, sorting out keywords, and making an eye-catching ad won't do much if you don't have a goal in mind. As the Cheshire Cat points out to Alice in Wonderland, if you don't know where you want to go, then it doesn't matter how you get there. Unfortunately, not having a goal—or not having clear goals—is one of the top mistakes you can make with PPC campaigns.
Start your PPC ad campaign on the path to success by having a clear idea of what you want to achieve. Once you have a measurable and specific goal to reach, it's time to focus on your campaign.
Include Negative Keywords
Picking keywords is an essential part of your PPC campaign. But did you know that negative keywords can also influence your ad? While keywords are terms that you want your ad to show for, negative keywords are the opposite. Negative keywords are terms that you're cutting out from your campaign.
You might think that omitting words and phrases from your campaign is counterproductive—isn't the whole point of your campaign to show up more rather than less? Using negative keywords is helpful because they make sure that your ad is only showing up on relevant searches.
For example, let's say you own an outdoor equipment store and want to run a PPC campaign about your lightweight fishing poles. If someone searches for light poles, you wouldn't want your ad to show because it isn't what they're looking for. To better optimize your campaign, you might decide to show for "light fishing poles" and "light poles for fishing" but not "light poles for sale."
Prioritize Audience Segmentation
Audience segmentation lets you thoroughly define your target audience. You might wonder what benefit that has on your PPC campaign, though. When you segment your campaign audience, you reach the right people with the right services.
You can narrow your audience by demographics like education, gender, age, homeownership, and more. You can also adjust your audience by their past buying behaviors and ad interaction for a better chance at conversion. For more ideas about how to segment your audience, take a look at our past blog about segmenting email lists.
Use Geo-Targeting
Strictly speaking, geo-targeting is an aspect of audience segmentation that targets a specific area. Geo-targeting (also spelled as geotargeting) is incredibly helpful, especially for small businesses that want to focus on local advertising. These local PPC ads give you a chance to tailor your ad to your nearby audience and prove your place in the community.
For instance, many northern Utahns call Uinta ground squirrels "potguts." If you own a pest control company in northern Utah, using the term "potguts" in your ad would prove your familiarity with the area. While other people wouldn't understand your ad, your target audience would, and they'd be more likely to engage with your company.
Find the Source of Your Visitors
Where your ad visitors come from might not seem very important, but that source can factor into how likely they are to convert. According to HubSpot, visitors who come to your site from a video are less likely to convert than the ones who find your PPC ad through a search engine.
Once you know how potential customers are channeling in through your PPC campaign, you can adjust your call to action to fit your audience. Check out some of the most effective options for your call to action with this handy chart: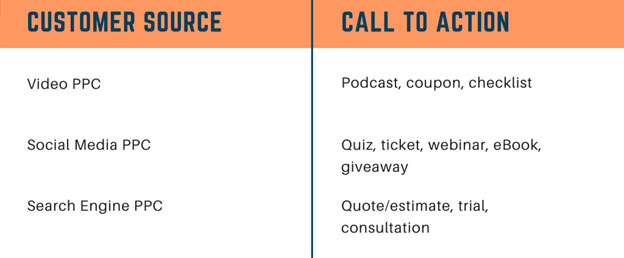 Take Advantage of Retargeting
Retargeting is the advertising equivalent of a second chance. Essentially, retargeting marketing puts your ad in front of people who are already familiar with your brand, products, or services. Although these customers didn't convert the first time, you can use your new PPC campaign to convince them why they shouldn't miss this opportunity again.
Maximize Your Pay-Per-Click Advertising
If you're struggling with a low-performing PPC campaign, you don't have to be like Alice, meandering and hoping you end up in a good place. You can change your course with a few simple methods. Try segmenting your audience, adding negative keywords, or retargeting to help you make the most of your pay-per-click campaign.
For help creating a seamless PPC campaign or for more insider PPC tips, work with Skoshe. Our digital marketing experts are ready to improve your PPC click-through rate, lower your cost-per-click averages, and grow your business. Contact us today to get started!